Everyone is very keen with their nails. For fancy look only nail paint is not enough but also you have to create something new, which gives different and advance creativity on your nails. For this just go to nail art, which you can do instantly and easily. In short, anyone can do it nail art.
How to do The V-Nail Art
This nail art is very easy to do it, but by looking it likes very time-consuming art. For this art, you have to use two different colors of nail paints, which you like. Here I would like to tell you to use a bright color of nail paint.
First, you paint your nails with bright color and let them dry it.
After complete drives of the nail paint, take another dark color nail paint.
Apply it on your nail corner in such a way, the nail paint forms a "V" shape at the tip.
You just make sure it is to be seal with a top coat to ensure that it does not chip quickly.
Here you can use three color nail paints…
Nail Manicure with Love Message
When you are doing nail art, you can do it with different ways. You can use nail art for reveal your feeling.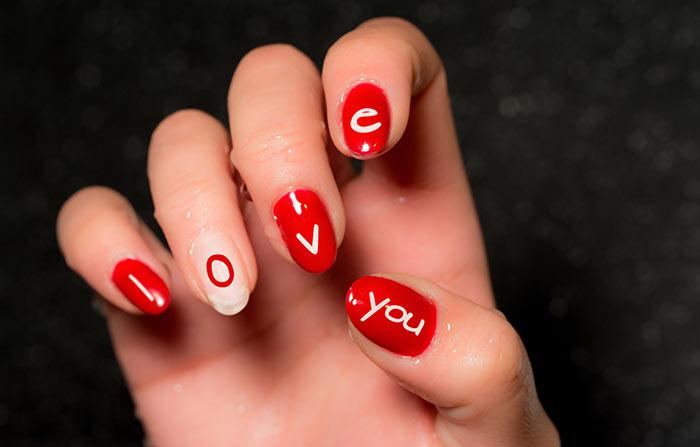 While writing a message on the nails, you have to use a dark color of nail paint. Most of the time red color is preferred.
Paint your nails with bright color and allows it to dry it.
You can use another different color for your ring finger, which gives more attraction.
After dry it, you can write a message on your nails.
Write down one alphabet on one nail bed.
Allow it to dry.
This message you can use to reveal your feeling.
Choose it small, short messages.
Pine Tree Nail Art
The pine tree is wonderful nail art. This art you can use for the Christmas season. Pine tree art is perfect for the party and it is super fancy art, which you can paint very easily on your nails. You need to use more than one nail paints.
As you will use in Christmas festival, then select red color nail paint.
All nails pain with red color except the ring finger.
Ring fingernail paint with a green accent color.
Create polka dots on the thumbnail by using toothpick or dotting tool.
Now just take a fine brush, dipped in green shiny nail polish and carefully create the inverted "V" on the middle finger nail.
You can also use nail stripper for the fine drawing of nail polish.
Allow drying the nail paint with all the nails.
Now your base is ready for you glitter tree.
Now you can take some rhinestones and paste on the green color nail paint. And your Christmas tree is ready.
You just have a look at your nails altogether, it gives you an amazing look.
Polka Dots Bow Nail Art
This is a very simple nail art, which anyone can do it easily. Polka dots are the number of round dots which is repeated to form a regular pattern. It looks very simple and attractive nail art. Polka dots and bows are a unique combination.
At the first paint your nails with nude color shade.
Allow to dry it.
Light pink shade gives cute look for your nails.
For white polka dots, use backside of the toothpick or you can use dotting pool.
Paint all nails with polka dots except the ring finger.
Take one bow with contrast color or quite same color and stick down on the ring finger nail.
Same seal with a top coat.
Allow to dry it.
Gradient Nail Art
Gradient means it is a slope or inclined part of the road. In this nail art, create the art like a gradient. Shades which you put color or tones, which shade into each other, graduated from light to dark color.
Take two colors of nail paint that complement each other.
Paint the nails onto a makeup sponge next to each other.
It is dip onto your nails.
If you have sloping nails, this art would be a given different look to your nails.
Recommended – Anatomy and Physiology of Nail Growth