Eye Liner
Eye liner is most keen activity in face makeup. Eyeliner gives define shape of your eyes. Eyes is one of the most alluring parts of your face, it drawing attention if you apply eyeliner properly. If it apply improperly, which end up your look that is more unfortunate than beautiful.  Eyeliner gives you flawless look to the eyes and your face.
You can choose an eyeliner which you like e.g., liquid eyeliner, pencil eyeliner and gel eyeliner. You can put the eyeliner from one corner to other corner.
How to Apply Liquid Liner
1-Step
Shake the Liquid bottle of Eyeliner
When you are decide to apply the eyeliner, ensure that the liquid liner is to be mixed well, for that you have to shake the bottle. First check the cap is secured and then shake the liner bottle for a few second. Remove the cap and take out the brush out of the bottle. If the brush has too much liner, then swipe it across the edge of the liner bottle.
2-Step
Start to Apply in Middle
When you start to apply the eyeliner on eye, place the brush on the middle part of the upper eye lashes. Draw the line close from the eye lashes from one side to other. If you are not experienced of applying eyeliner, you can try to draw line by pencil and over it paint with the liquid eyeliner from outer edge of your lash lines. For finishing line you can draw over lapping line on it. It gives defined look to your eyes.
3-Step
Gap Filling of Lines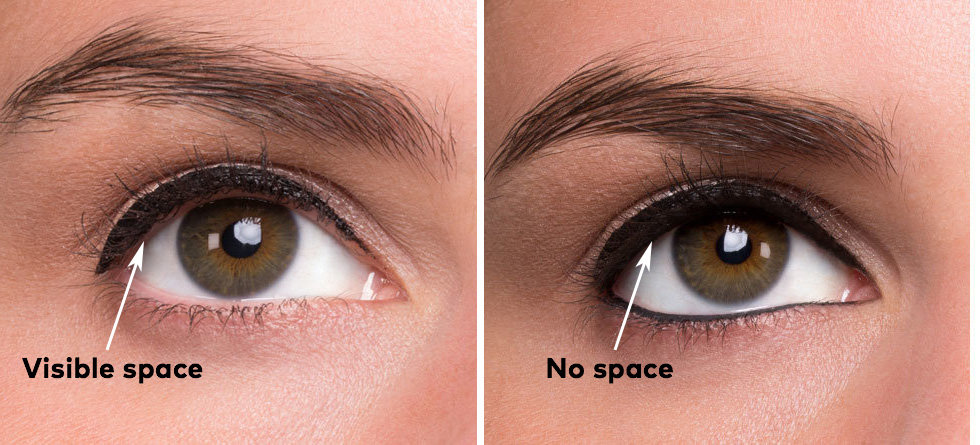 After finishing the upper line of outer corner, line the remaining inner edge of upper lash line and it connects to the upper outer lash line, which you have drawn previously. First you make small stroke to connect previous line. Fill it out as needed with solid, even line on your upper lashes. If any  mistake is happen, then dip the cotton swab in makeup remover liquid and remove the extra lines of eyeliner till it gets defined lines
4-Step
Apply Lower Eye Lashes Line for a Winged Look
You can use liquid liner to draw wings with sharp brush. Drawing of wings are optional for you. But wings give you an intense look. If you want to draw the winged look, you just apply follow the curved which you draw previously on upper eye. It draws from the upwards to outer corner of your eyelid. Then give final touch to your wings. It give immense look to your eyes.
Draw the small wings, you are going for longer wing, it give drama look to your face.
You should be used business card, spoon or tape, it help to create straight line on the wing against the outer edge edge of eyelid.
Final