To look smart and defined, you always do makeup correctly, each step of eye makeup also you have to follow thoroughly. To keep your lips attractive, smooth and beautiful you gave to use colour lipstick which is match to your complexion. You can use dark colour of lipstick, it will give bold and heavy lip coverage to you lip.  For lighter and shiny colour of lips you have to use lip gloss. To prevent smearing lipstick, you have to use lip pencil to line your lips. If you want to apply liquid lipstick, you have to use brush for applying lipstick.
Step 1: Prepping of Lips
Before applying lipstick, you always keep in mind, for prepping your lips, apply a lip balm or lip conditioner on your lips, which smooth and supple your lips. It will help in lipstick application. Then you can be applied lip primer which would be made your lip colour stay on longer period and won't bleed the colour.
Step 2: Apply Concealer A Base
Concealer is very important for lips before applying the lip colour. Choose shade of a concealer, which is match with your lip colour. Use small fluffy or flat brush for applying colour on the lips. Compact powder is to be applied to seal the powder. This technique also works to keep lip colour stay longer
Step 3: Lip Liner for Lips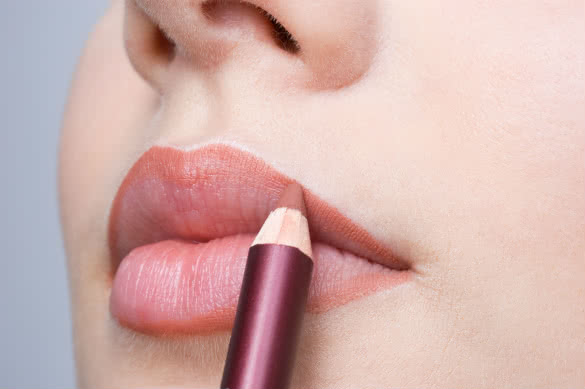 You should line your lips with colour. You have to choose a colour which is matches to your lip colour, not your lipstick colour. Before drawing the pencil, begin it by dotting / dashing it with various points, apply it from one corner to other, on both the upper and lower lips. Drawing very lightly line along with outline of your lips.
Once lips lining is get complete, same pencil take to line up entire lip area. This helps to hold the lipstick colour intact and stay on long lasting.
Step 4: Applying Lipstick
As soon as you punishing lip pencil, choose the lipstick as your choice and starts from the center of the upper lip and move outward toward one corner, again brings the lipstick back to the center and run it outward toward the other corner. Repeat steps  for the lower lip. See, any where lipstick is missing, dap the lipstick and dot the colour on your lips with your finger. If you are not able to do, then you can use brush or you can use directly lipstick for the application.
Step 5: Define Lips
It is a need that after completion of lipstick, to make your lips more defined, you can use concealer with a small flat brush and touch up the edges of the lips. Blending of concealer gently and allows it to disappear. This way you can correct the shape of your lips and bring your lips more defined and perfectly look.
If you want you can use lip gloss for glam look or keep it simple for a day wear.
Step 6: Blot Lips
Before applying lip gloss, you have to blot your lips. The blot makes your lipstick last longer and keep if off your teeth. Take cosmetic tissue and fold it in half way and hold it in your two hands. Press gently your lips on tissue paper and release it. Or you can use your finger to blot lips before applying lip gloss.
Note: If you have thin lips, avoid to use deep / dark red colour lipstick. It tends to looks your lips smaller.
Final look