Face Makeup
Anybody can apply makeup on face, if they would be followed some tips of makeup. Anybody have right to look flawless if they use right products in a right way. First you wash your face, moisturized and prime it. Then you can apply foundation and powder to smooth out your skin. If needed, you can be applied some concealer and blend it in. At the end, to enhance your facial features with blush, eye shadow, eyeliner, mascara and lipstick
Preparation of Face
Step-1. Removing of Old Makeup
When you are going to apply the makeup, first you have to see your face should be cleaned. You have to remove the previous makeup which you have been applied on your face. Sometimes we feel tired or not getting time to remove the makeup and you are tried to apply more makeup over the top of the old makeup, your end look would be unnatural than make up apply on a fresh face. You have to cleanse the makeup thoroughly to prevent skin clogged and irritation. You can be used good makeup remover or you can be used mild baby oil. You should be removed makeup at the end of the day. You should not be sleeping with makeup, it causes wrinkles and blemishes.
Step-2. Wash Your Face
Washing face is very important activity, which keep your face clean and dirt and oil free. When you are going to apply makeup, always you have to wash your face or you can use mild cleanser of good company, so it would not be affected to your face skin. Whenever you are using cleanser, you have to make sure or cross check about pH of the skin and the cleanser. Normal skin pH is 7.35 – 7.45, which has to maintain when you are using any cleanser and any beauty soap for wash and cleansing the face skin. Imbalance pH always damage and dry the skin.
You can use following cleanser for wash the face….
If your skin is dry, then you can use cleanser with moisturizing cream.
If your skin is oily, then you can use oil based cleanser. It helps to reduce oil production of skin.
If you have normal skin, you can use cleanser without micro beads or exfoliates and which is based on gentle cleanser.
You can wash your face gently by spending at least one minute of massaging to remove all dead skin cells along with bacteria. Rinse with cool water. Apply Moisture, as per your skin type.
Step – 3. Moisturize Your Skin
Moisturizer to be used after every wash. There are many types of moisturizers available in the market only you have choose according to your skin. If you are outside for a longer period, then you have to choose moisture with sunscreen which protect your skin.
If your skin is oily, then you can use oil free moisture. This moistures smoothen or soften your skin and also control oil production.
If your skin is dry, then you can choose lightweight cream.
If you are having acne or pimples, then you can use moisture which contain of salicylic acid.
Step – 4. Prime the Face
Primer is a product of makeup, which you can use before applying foundation. Primer smoothen your skin and also fills the pores, which helps to look your skin radiant and clean. You can apply primer with your fingers. Dab a little amount of primer on your forehead, chicks, nose, and chin and on neck.  Blend it with your finger or you can use foundation brush. You can use primer, which is suitable to skin colour and skin tone.
If your skin is dull, you can use pink primer, which gives healthy glow to your skin.
If your face look like sallow, you can use lilac tinted primer which is neutralize any unhealthy tones.
If you are having uneven redness or pimple spots, you can be used green tinted primer, it would be neutralized in skin.
Step – 5. Apply Foundation Layer
There are different types of foundation available in the market. Only whenever you are choosing, always consider colour of your face skin. Foundation is a base of your makeup. You can use liquid or powder form foundation, both creates an even more complexion. Foundation is gives more skin tone and beautiful glow to your face. Dab foundation on your cheeks, forehead chin and bridge of the nose and also on the neck, chest, and earlobes. Keep in mind your foundation would be the same colour of you natural skin. Blending it with your finger with all said areas.
You can use concealer brush or use a damp beauty sponge for a heavier cover up stubborn blemishes.
Liquid foundation most likely introduce bacteria on the skin and cause future breakouts, if you are not taking proper care of the skin.
Make sure you should be used right colour of foundation. The right shade would be invisible on your chin and neck in full day light.
If you used unmatched colour shades, it seems like wearing a mask.
Step – 6. Concealer Application of Face
Concealer is use to cover up the pimples or acne, red spots and dark eye circles. For heavy coverage, you can use liquid foundation, which to be applied with small makeup brush and or lighter coverage you can be used a concealed stick. You can use concealer brush or finger tips to blend concealer on your under the eye area in upside down with triangle shape, on bridge of nose it takes downwards and apply on chin, centre of forehead and upper lips. Blending of concealer gives flawless coverage to your face. Concealer should be always matched to your foundation colour.
Step – 7. Setting up Foundation and Concealer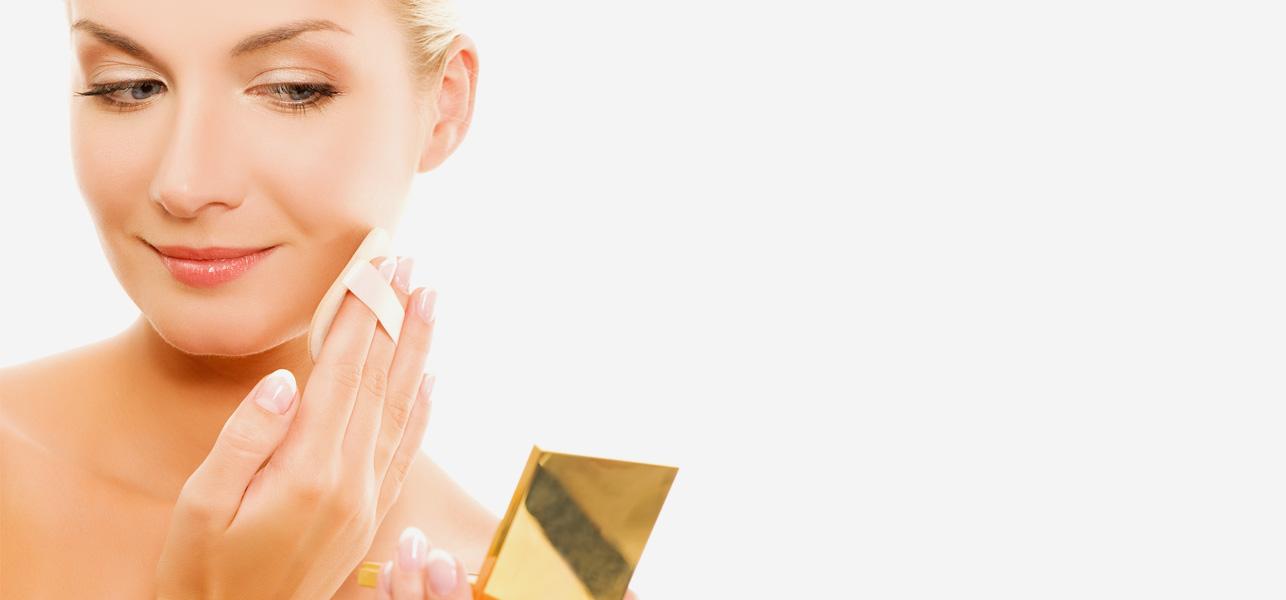 This is an optional step which you can use it, when you are looking for long-lasting, should be used setting powder to hold foundation and concealer in place. This step you can be used when you are using liquid foundation, it removes shine and thickness. You can use damp beauty sponge to apply loose powder under the eye area, then gently sweep off excess powder with brush.  Then you can use large, fluffy brush to cover whole face in a translucent or matching setting powder.
Step – 8. Applying Highlighter on Face
After applying foundation on face, there need to be provided some depth and create the illusion of highlights and shadows. You can be used cream, which was applied before setting of your face. Or powder highlighter to brighten up the deepest area of your face.  This powder you can use inside corner off your eyes, underneath of your eyebrows, centre of your cupid's bow and also tops or sides of you cheekbones. You can use your fingers or small highlighter brush to apply a highlighter on face. Because of highlighter you face would be more bright and awake.
Step – 9. Adding Depth with Contouring
When you want darker shade, contouring involves adding a powder. You should be contoured under cheekbones in the hollows of your cheeks, nose sides and under the jawline.  If you want to appear your forehead smaller than normal you can contour near your hairline. This would be made your face appearance thinner and longer. Use big bronzing brush to add colour your face.
Step – 10. Applying a Little Blush
This is a final step in prepping you face of adding blush to your cheeks. Apply your blush with large brush on the round part that forms which you smile. Do not apply heavy, just add enough to replenish the colour which would be form naturally.